The Friend Garden, a Children's Book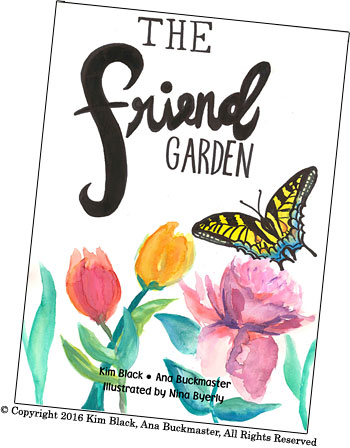 A Beautiful Story About Making and Nourishing Friendships through Kindness
The Friend Garden, a New Children's Book by Kim Black and Ana Buckmaster, illustrated by Nina Byerly
New town, new school, new friends... this could be a very overwhelming week for one shy girl. And when she tries hiding from the world by staying in her room, her grandma suggests the strangest remedy--gardening.
What does gardening have to do with friendship? Find out by taking a stroll in The Friend Garden.
Click to Order The Friend Garden!*
Visit The Friend Garden website for more information about the book, the authors, and illustrator.
* Be sure to sign up to our email list so we can keep you up-to-date on book signings, news, etc.!
Workshops and Speaking Engagements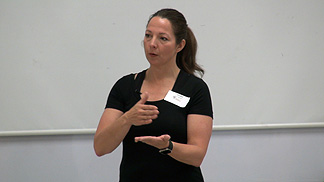 Currently Offered Workshops/Speaking Engagements:
Speaker at Child Care Seminar
Creative Movement Workshop for Child Care Professionals at their Facility
In Studio Creative Movement and Dance for Dance Instructors
Click for More Information on Workshops and Speaking Engagements
"In over 20 years of working in preschool education I have never seen anyone better than Miss Kim at engaging children and keeping them involved. Children absolutely love her."
Barbara Long, Director Front Street United Methodist Church Playschool, Burlington, NC.
"Kim is an incredible educator who strengths know no bounds. She's worked with students in creative movement for as long as anyone can remember and has the personal touch to help each and every child reach their potential."
Dr. Jenny Sabin, Academic Dean for The Burlington School
Click for More Information on Workshops and Speaking Engagements
Librarian On "The Friend Garden"…
"This is an amazing book! As a librarian, I am very picky about what I read. Somehow Kim managed to share lessons on how to be a good friend without being "preachy". I can't wait for the sequel so I can find out how the main character's first day at school went!"

~Barbara Seibold, Librarian, The Burlington School, Burlington, NC
Art Teacher On "The Friend Garden"…
"I was fortunate to get a sneak peek of The Friend Garden. This is an absolutely beautiful book, particularly in the written message of the story. The illustrations are stunning and were done by a 12-year-old girl. I love that Kim found a way to give a young girl this opportunity. But I cannot stress enough the beauty of the writing in this book. The message is very meaningful, for adults as well as for children. This book is a must-have for teachers and parents alike."

~Gretchen Fisher
Subscribe to Miss Kim's Email List!