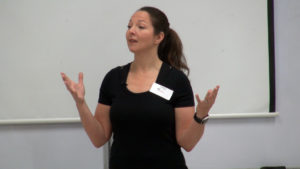 I was thrilled to see Rolanda Stanfield, director of Wee Care at the "Day of Training Workshop 2017". She has been a shining star at Wee Care for so many years. Every time I walk into that facility it feels "warm and fuzzy". It is definitely a family atmosphere and that comes from consistent leadership.
Rolanda asked me to come and give her teachers a sample creative movement class. I jumped on the chance!
Going to a facility and working with the children is the best way to show teachers how to incorporate creative movement in their daily activities.
The kids at Wee Care did not disappoint. Their faces immediately lit up as we worked on gross motor skills. I worked with skipping, and two foot jumps with all the children. Their favorite activity was my "Candy Land". I had them touch their hearts at the end to feel it pumping.
Thank you to Rolanda Stanfield for inviting me, I always enjoy seeing you and your teachers. You have a great thing going!
If you would like me to come and work with your teachers on site please fill out the form on my Workshops page.