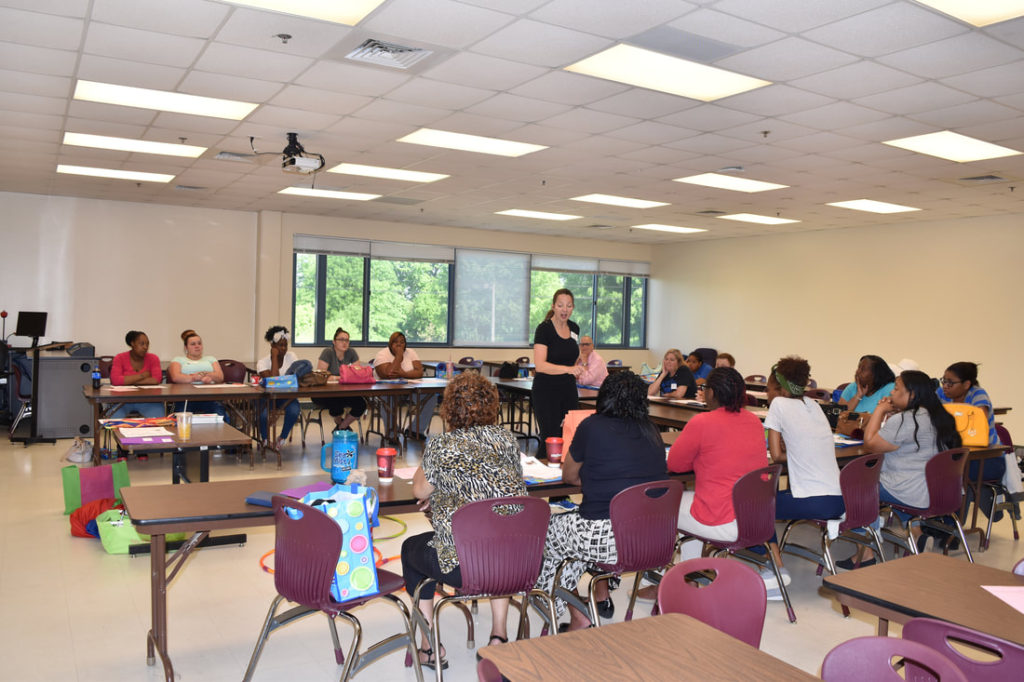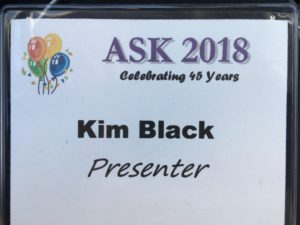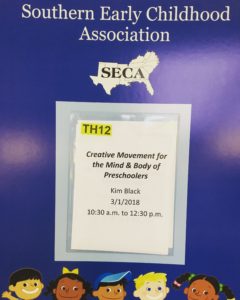 I just finished speaking at A.S.K Teacher Conference in Chapel Hill, NC and SECA in Lexington, KY. I taught Creative Movement for the Mind and Body. I am still tweaking my content and gearing it to who is taking my class whether it is the child care professional or the Director of the program.
The A.S.K. Teacher Conference  in Chapel Hill was first. It was held at East Chapel Hill High School. It was filled with child care professionals, directors, educators, and more. It was run like a well oiled machine. After loading in all of my equipment to A.S.K. I texted Fred and said "you have to get me one of those fancy carts these other presenters are rolling in on". Next thing I know Fred sends me a link to a cute pink with white polka dots carrier that I so desperately needed. I was so thankful for the helpers at A.S.K that helped me carry all my stuff! Thank you Katie! My participants were so much fun. I presented two sessions and both were filled with fun comments, great questions, and the best advice I could ever receive. Miss Kim, your class was incredible but you just talk too fast. I thought to myself, "You think?" in my most sarcastic voice. Point taken!
I get excited. Really excited about things I love. After I finish a workshop the adrenaline is flowing and I feel like I just finished a race. I am surrounded by people that share the same passion as I do. I am surrounded by people that are patient, kind, and wear so many hats in a 9 hour day. Talking together and laughing at inside jokes that only we would understand is exhilarating for me. Maybe it is somewhat comforting too knowing that there are so many wonderful people giving our youngest treasures the best start possible.
Last week I drove 7 hours to Lexington, KY. My mom came along for the drive to keep me company and we had some great talks as we traveled through the beautiful mountains. When I arrived at the SECA conference I realized it was much larger than I was used to. The room I was speaking in was beautifully laid out. Everything was decorated with a horse theme which is perfectly appropriate since Lexington is the horse capital of the world. My session was in the Thoroughbred room. I had a room filled with child care professionals from across the Southeast from Arizona to Mississippi. I knew that I did not need to worry about my southern accent here! I purposely slowed my speech down and demonstrated a lot more. I started out my presentation with a movement activity. After it was finished everyone in the room was laughing, smiling, and enjoying themselves. I made a point of saying how movement does the exact same thing to children when they move together to music. It resets their brain. We had a great 2 hours filled with creative movement, demonstrations, questions, and ended with a book readying of my children's book "The Friend Garden".
These past two conferences were a great experience and I hope I get to return. I am preparing for my local conference given by Alamance County Partnership "Day of Training" 4/21/2018. I look forward to seeing familiar faces and sharing my ideas with them.
Take care and keep moving,
Miss Kim